Current news directly from IAFF locals, councils, and state/province associations in the US and Canada.
IAFF Peer Support Group
01/27/20 - IAFF Local 51
Brothers and Sisters,  The IAFF Peer Support Team will be in town this week for a follow up visit for the August 3rd incident. The finalized schedule (subject to change) is below and attached. This visit will focus on the Firefighters that responded to the incident and anyone else in need of assistance. Please email me  ( ThompsonPA@elpasotexas.
February 2020 General Membership Meetings
01/27/20 - International Association of Firefighters

Our next general membership meetings will take place on Monday, February 10th and Tuesday, February 11th at The Cabin on Rt 33 in Freehold. Both meetings will start at 1700 sharp on the patio (back room behind the fireplace). Please make every effort to attend.
Annual 7th District FIREOPS 101 Approaching
01/27/20 - IAFF 7th District
The annual 7th District FIREOPS 101 is fast approaching and slated for March 19-20 at the HAMMER training facility in Richland, Washington.  This is the 16th year and our FIREOPS 101 is one of the Magnificent 7th District's longest running program.  We offer 42 spots on a first-come first-served basis so don't delay.
MPFF's Char Torkelson Is Retiring
01/27/20 - Minnesota Professional Fire Fighters
After 18 years of dedicated service to the Minnesota Professional Fire Fighters, Char Torkelson has announced her retirement effective Friday, January 30th. Char has been a mainstay at the MPFF office.
Monday Morning Headlines 1/27/2020
01/27/20 - Denver Firefighters Local 858
Monday Morning Headlines 1/27/2020   Don't forget to do the Survey Monkey.  On January 31, the Executive Board will be meeting to discuss the direction and future goals of our Local. We discussed the importance of having a member-driven organization and want your input to discuss when we meet.
FSA/HRA Update
01/26/20 - IAFF Local 21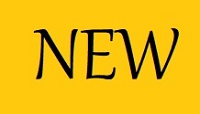 121Benefits Update... ?Obviously there have been many frustrations and questions with the new FSA/HRA transition. So far, with the exception of what would be described as poor communication from/between both the city and 121benefits to our members, everything seems to be accurate. You will notice that all dollars rolled into the 121benefits from Cielostar are off by 10%.
ST PATRICK'S DAY GALA
01/26/20 - Cambridge Fire Fighters
St.
Koried Educational Conference
01/25/20 - UPFFA
Enjoyed serving as Co-Chair of the 2020 Koried Educational Conference along with fellow Co-Chairs Jarvis V Hollingsworth, Chairman Teacher Retirement Systems of Texas and Patrick Colligan, President New Jersey State Policemen's Benevolent Association. Also had the opportunity to serve as Moderator for one of the workshops concerning JANUS and the effects on organized labor.
Local 3152 Blood Drive February 29th
01/25/20 - Key Peninsula Firefighers Local 3152
We will be hosting a Community Blood Drive in partenership with Csascade Regional Blood Services, Key Peninsula Fire Department and the Key Peninsula Firefighters Association on Saturday February 29th at the Key Center Fire Station from 11am-3pm. Come save a life by donating blood along side your local Fire Fighters.
IAFF Alert: Novel Coronavirus
01/24/20 - UPFFA
With cases of the novel coronavirus (2019-n-CoV) now reported in the United States, individuals infected with this infectious disease may seek assistance from emergency response personnel as the coronavirus spreads. The IAFF has developed a resource for responding to patients who may have been exposed to 2019-n-CoV.
Notice of Nominations for Convention Delagates and Alternates
01/23/20 - Denver Firefighters Local 858
Nominations for Delegates & Alternates to the 2020 IAFF Convention will be held at the February Union meeting on February 5th at 7:00 pm & February 6th at 8:30 am at 12 Lakeside Lane, Denver, Colorado 80212. Nominees will have the opportunity to speak at the Union meeting on March 4th at 7:00 pm & March 5th at 8:30 am.
Executive Director Search
01/23/20 - Northern Ohio Fire Fighters
IAFF Center of Excellence
01/23/20 - Tennessee Professional Fire Fighters Association
As part of efforts to increase awareness of the IAFF Center of Excellence for Behavioral Health Treatment and Recovery, we have developed a video virtual tour of the facility to ensure our members know what to expect at the unique treatment center exclusively for IAFF members. https://youtu.
Friday Update 1-24-20
01/23/20 - IAFF Local 1014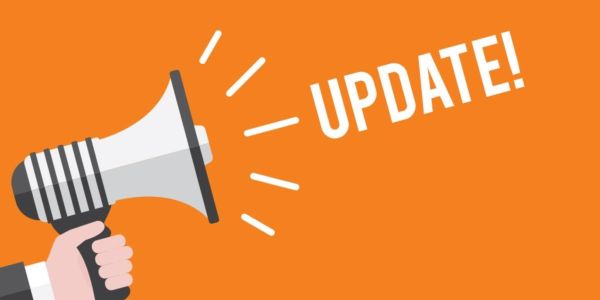 Comp Time Implemented
01/23/20 - IAFF Local 1014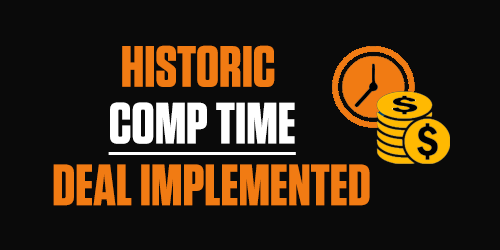 Four New Members Sworn In - 1/2/20
01/23/20 - Norwalk Professional Firefighters
On January 2nd, 2020, Local 830 swore in four new members.  Congratulations to Edwin Napol, Lauren Roach, Kristi-Starr Smith, and Wilson Figueroa.  May you all have a long, and rewarding career.
Joe Needs You: MPFF Will Travel To Iowa Feb 1st For Biden
01/22/20 - Minnesota Professional Fire Fighters
The Iowa Caucus is February 3rd and the MPFF is conducting a day-trip to Waterloo, IA on Saturday, February 1st to rally in support of the IAFF's endorsed candidate for President, Joe Biden. This is your opportunity to make a difference in the most important presidential election in our lifetimes.
St. Patrick's Day Apparel
01/22/20 - IAFF Local 21
                                                                  CLICK ON ABOVE PHOTO FOR FULL SIZE IMAGE We will be running the store the same as last year, all online ordering.
Sunday, February 9, 2020: 10-Year Anniversary - Kleen Energy Memorial Service
01/22/20 - UPFFA
On February 7th 2010, the Kleen Energy plant exploded in Middletown, Connecticut killing 6 workers and injuring as many as sixty others.
1/21/2020 North Main St.
01/22/20 - Norwalk Professional Firefighters
The Norwalk Fire Department responded to an explosion and fire in a sidewalk electrical vault. The vault located in front of 44 North Main Street had its door blown open with flames and heavy black smoke showing, when Firefighters arrived.
Engineer Allen Retirement
01/21/20 - South Metro Firefighters IAFF LOCAL 2086
Congratulations and thank you to Engineer Steve Allen for his 25 years of service. Enjoy your retirement! https://www.southmetro.
CODE 3: Back Draft beer now available!
01/21/20 - Minnesota Professional Fire Fighters
CODE 3: Back Draft by Broken Clock Brewing Cooperative. You can also visit their location at 3134 California St NE, Minneapolis, MN 55418 or visit them at www.brokenclockbrew.com for where else in Minnesota you can pick some up. A portion of the proceeds from CODE 3: Back Draft will be donated to Firefighters for Healing.
VPFF Scholarship
01/20/20 - Henrico Professional Firefighters Association
Applications are now being accepted for financial assistance for spouse and legal dependents of the Virginia Professional Fire Fighters members (including spouse and legal dependants of Line of Duty Deaths members). Applications and supporting materials must be mailed no later than March 1, 2020. All applications and supporting materials will become the property of the VPFF.
Monday Morning Headlines 1/20/2020
01/20/20 - Denver Firefighters Local 858
Good Monday Morning, TODAY'S HEADLINES ALTS Union Office Closed Survey Monkey Ball Tickets ALTS - This week, members of the Executive Board are in Orlando, FL, at the Affiliate Leadership Training Summit. They are taking classes such as Duty of Fair Representation, Grievances, and New Union Leader classes, to name a few.
NLFD 2019 Fire Marshal's Year End Report
01/19/20 - New London Fire Fighters
The NLFD has compiled an elaborate year end report for our 2019 year. You may see it here.
Local 21 Regrets To Announce The Passing Of Retired Captain Tim Pleau
01/18/20 - IAFF Local 21
     Local 21 regrets to announce the untimely passing of Retired Captain Tim Pleau.  Captain Pleau started with the Saint Paul Fire Department on May 11, 1992 and retired on June 30, 2019.  Funeral arrangements will be posted when available.    THE FAMILY HAS REQUESTED THAT NO FACEBOOK POSTS ARE DONE AT THIS TIME.
Colorado Avalanche/858 Discount tickets
01/17/20 - Denver Firefighters Local 858
Hello members, we have discounted Avs tickets available for Saturday March 21st, tickets start @ $37 and come with food or drink credit, just click the link on the attached flyer and we'll see you there. Friends and family are invited, no limit on tickets, but they will sell out.
Jim Smith Named State Fire Marshal
01/17/20 - Minnesota Professional Fire Fighters
Replacing Bruce West as state fire marshal is Jim Smith who previously served as deputy state fire marshal. Fire Marshal Smith who has been in the fire-service since 1980, served as as a firefighter/paramedic, district chief, and assistant chief of operations with the Saint Paul Fire Department and is a former member of Local's 21 and 3939.
Governor Walz Appoints Tom Thornberg To PERA Board
01/17/20 - Minnesota Professional Fire Fighters
Last week Minnesota Governor Tim Walz appointed IAFF 5th District Vice-President Tom Thornberg to the Minnesota Public Employees Retirement Association (PERA) Board of Trustees. The eleven member board approves PERA's operating budget, decides legislative policy and priorities, and hires the executive director.
Union Office Closed
01/17/20 - Denver Firefighters Local 858
Denver Fire Fighters Local 858 Offices will be closed January 20th  thru January 22nd  for the IAFF Affiliate Leadership Training Summit and Human Relations Conference.  We will return to regular operating hours on January 23rd.  If you need immediate assistance, please contact your District Vice President or Principle Officer.
Friday Update 1-17-20
01/16/20 - IAFF Local 1014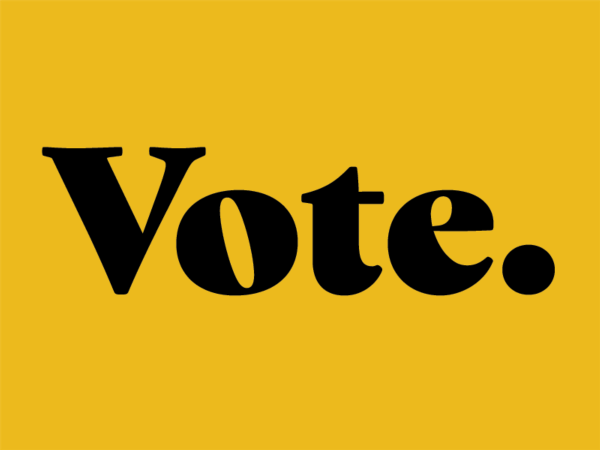 2020 Stair Climb Events
01/15/20 - IAFF Local 21

Attn. Medicare EligibleRetirees
01/15/20 - Canton Professional Firefighters Association
Vic George form the Canton Police Department is working with a representative of Humana to establish a supplemental health care plan for retired police and fire members. This plan will only be available to those 65 or older. Humana has recently provided a similar plan to Hoover Co. retirees to cover the additional costs to their members that are Medicare eligible.
Help Put Joe Biden Over the Finish Line in Iowa
01/15/20 - Missouri State Council of Fire Fighters
Brothers and Sisters, As many of you are aware, I have been traveling the state of Iowa over the past week, along with General Secretary-Treasurer Kelly and 2nd District Vice President Woolbright, speaking directly to our members about the importance of caucusing for Joe Biden. We are excited about the possibility of a strong fire fighter showing at the February 3 Caucus.
Downing St. Structure Fire
01/13/20 - South Metro Firefighters IAFF LOCAL 2086
Around 3:45am Monday, January 13th Local members responded to a house fire in the 3600 block of S. Downing St. in Cherry Hills Village. When members arrived on scene they found a house fully involved in fire and immediately began fighting the fire defensively from the outside of the structure.
2019 Big Buck Contest
01/13/20 - IAFF Local 21
2019 Big Buck Contest Winners      Archery contest winner, Eric Torgerson (left) with a Wisconsin 11 point buck scoring 137 5/8. Gun contest winner, Jim Engen (right) with a 10 point buck scoring 122 inches.
Monday Morning Headlines 1/13/2020
01/13/20 - Denver Firefighters Local 858
Good Monday Morning, 9-Ball - Today and tomorrow is the Denver Fire Fighters Charitable Foundation 25th Annual Scotch Doubles 9 Ball Tournament. It's at the Wynkoop Brewing Company and begins both days at 11 am. $30 per two-person team and $40 per three-person team. See Poster for additional information.
Passing of FF Philip Norris - C4 Aide, Retired
01/12/20 - IAFF Local 739
Passing of Firefighter Philip Norris - C4 Aide, Retired Philip P. Norris, age 68, of Peabody and formerly of Lynn, died on Saturday, January 11, 2020 at the Kaplan Family Hospice in Danvers, surrounded by his loving family, following a courageous battle with cancer. He was the loving and devoted husband of Joan M. (Hurley) Norris with whom he shared 48 years of marriage.
Saint Paul Fire Foundation Food and Wine Event
01/11/20 - IAFF Local 21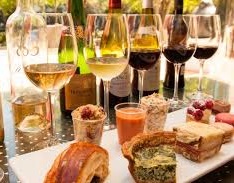 Minnesota Food & Wine Experince Discounted Tickets for Firefighters.
Fire Service Day at the Capitol
01/09/20 - IAFF Local 21
Please join the Minnesota Professional Fire Fighters (MPFF) and the Minnesota Fire Associations Coalition (MNFAC) for the annual Fire Service Day at the Capitol on Wednesday, February 19, 2020. CLICK ON THIS LINK TO REGISTER:  https://forms.gle/xHNcGDPCJJKR1v8G7 Registration deadline is February 7th.
January 9, 2020: Members – 25 Years of Service or More
01/09/20 - UPFFA
Dear Affiliated Local Presidents: President Carozza is currently working on a project with the Governor's Office. We are requesting each affiliated local to forward a listing of your members who have TWENTY-FIVE (25) YEARS OF SERVICE OR MORE. Please provide this information ASAP to Jane McCarthy at jmccarthy.upffa@sbcglobal.net
2020 Beer Dabbler Sign Up
01/09/20 - IAFF Local 21
Friday Update 1-10-20
01/09/20 - IAFF Local 1014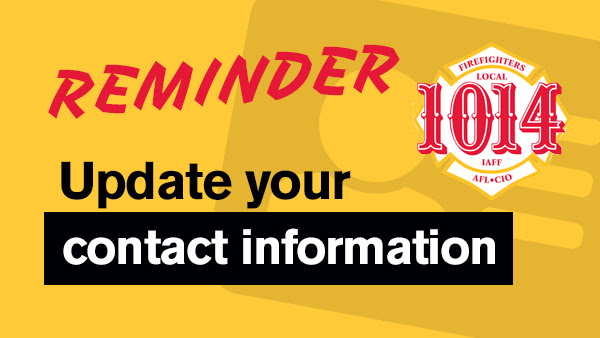 Nominations at Bi-Monthly Meeting
01/08/20 - IAFF 1826
Nominations will be held at the Bi-monthly meeting in February. Nominations will be accepted for the Principal Officer position of President, the position of DVP for all even-numbered districts, and Assistant DVP for Districts 1, 2, & 6.
Denver Firefighters Museum Update
01/08/20 - Denver Firefighters Local 858
Dear Brothers and Sisters, On behalf of the Denver Firefighters Museum Board of Directors I would like to offer up some things for you to think about. After the tumultuous annual meeting which resulted in a large turn over in directors things were very contentious.
Museum Update
01/08/20 - Denver Firefighters Local 858
January 5, 2020 Dear Museum Members and Brothers and Sisters of Local 858 On Thursday January 2, three designated members of the Museum board (Angela Rayne, Laurie Wetzel and myself) met with the Executive Director and relived her of her duties.
Benevolent Fund and TV Fund Deductions
01/07/20 - Albuquerque Area Fire Fighters
Attention Members: Be advised, deductions for Benevolent and TV Fund will be deducted in this month (January 2020) in accordance with Article IV, Section 6 and Section 10 of the IAFF Local 244 Constitution & Bylaws.  City Chapter Members: Please be advised that deductions for Benevolent Fund and TV Fund are scheduled to come out during the first pay period in January 2020.